The Howling Ghost is the second novel in the Spooksville series. Cindy Makey, one of the main protagonists, is introduced in this novel; the plot revolves around her character and her brother Neil. The summary on the back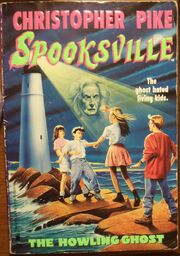 cover reads:
"The ghost was mean-spirited. Cindy is playing by the ocean with her younger brother, Neil, when a ghost appears out of nowhere and grabs Neil and takes him away, Cindy tries to tell people what happened, but everyone assumes the boy must have drowned. Cindy is left heartbroken, with no one to help her find her brother. Until Sally reads about what happened in the paper. Sally believes in ghosts - she knows ghosts are a dime a dozen when it comes to Spooksville. With Adam and Watch, Sally goes to Cindy and promises to help get her brother back. But what none of them knows is that this is a nasty old ghost. It would rather turn them all into ghosts than return Cindy's brother."
It was published in 1995 by Pocket Books, a subdivision of Simon & Schuster Inc, under the A Ministrel Book division.
The story is set two weeks after The Secret Path.